Where Customers Come First
Welcome to Armstrong-Hailey Insurance Company. We are a full-service independent insurance agency committed to providing individuals and businesses intelligent risk management solutions. Our agents are licensed in Arkansas.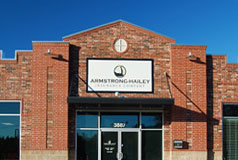 Through analysis of your personal, business and/or financial objectives, we shop from a broad spectrum of insurance companies to tailor an insurance plan that provides the best coverage and pricing. Armstrong-Hailey Insurance Company is committed to long term partnerships and will continue to make sure you have the best insurance value for the life of your coverage. Call Us Toll Free: 866-344-0808
The Future of the Affordable Care Act
By Cal Kellogg
Executive VP of External Operations and Chief Strategy Officer
Arkansas Blue Cross
With the results of the presidential election, the elections in the House and Senate completed and the inauguration just days away, many are asking what are the implications for the Affordable Care Act (ACA) and how health insurance might change under a Trump administration. While members of the House and Senate are still talking about repealing the entire ACA, a total repeal without any replacement may be challenging. However, repealing parts of it is very much possible. Even now, it is too soon to fully know what will happen. However, there are several key things to keep in mind....

Read More...


Armstrong-Hailey
Insurance Company
3887 N. Crossover Rd.
Fayetteville, AR 72703 |
Map
Toll Free: 866-344-0808
Voice: 479-443-0808
Fax: 479-443-0807
Email: quote@ah-ins.com
Business Hours 8-5 M-F

Armstrong-Hailey Insurance always has your interests at heart. By keeping independence, we can shop around for you and find the best coverages and lowest prices.