Where Customers Come First
Welcome to Armstrong-Hailey Insurance Company. We are a full-service independent insurance agency committed to providing individuals and businesses intelligent risk management solutions. Our agents are licensed in Arkansas.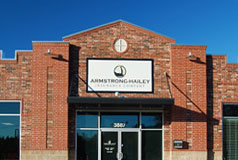 Through analysis of your personal, business and/or financial objectives, we shop from a broad spectrum of insurance companies to tailor an insurance plan that provides the best coverage and pricing. Armstrong-Hailey Insurance Company is committed to long term partnerships and will continue to make sure you have the best insurance value for the life of your coverage. Call Us Toll Free: 866-344-0808
Helping you understand the cost increases under health care reform
A message Blue Cross / Blue Shield of Arkansas CEO and President, Mark White
If you follow news coverage of health care reform, you likely are beginning to see stories discussing the cost increases many Americans will experience under this law. For some Americans, these cost increases will be offset (in whole or in part) by advance premium tax credits (subsidies). For many, they will not. At Arkansas Blue Cross and Blue Shield, we want to be certain our members understand the provisions of the law that are driving the cost increases and, more importantly, what Arkansas Blue Cross is doing to ensure you have access to affordable coverage.
The drivers of increased premium costs are new taxes and fees put in place to support the cost of many of the reform programs and the new rules around how health plans must be structured and what they must cover. These new rules apply to those who purchase individual or small employer coverage....

Read More...


Armstrong-Hailey
Insurance Company
3887 N. Crossover Rd.
Fayetteville, AR 72703 |
Map
Toll Free: 866-344-0808
Voice: 479-443-0808
Fax: 479-443-0807
Email: quote@ah-ins.com
Business Hours 8-5 M-F

Armstrong-Hailey Insurance always has your interests at heart. By keeping independence, we can shop around for you and find the best coverages and lowest prices.